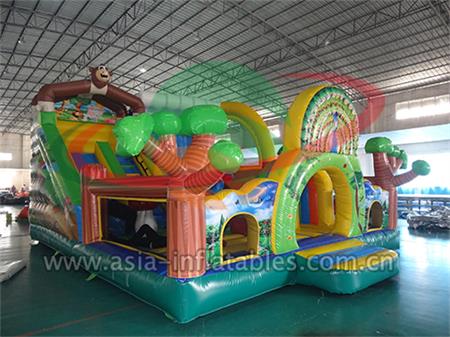 Colorful Inflatable Peacock Bouncer Playground For Kids
Item No.: GA-4005
Name: Colorful Inflatable Peacock Bouncer Playground For Kids
Size: 10mL x 8mW x 6mH
Materials: Best 0.55mm PVC oxford/plato
Design: can be customized
Accessories: ground ring,glue,carpet,thread,needle,instruction, repair kit, blower etc.
Usages: moonwalk,inflatable fun city,entertainment center, Rental business,family use,nursery schools, gardens, etc.
Location conditions: relatively mooth,with no sharp objects
Warranty: 3 years
Suitable age: Kids and adults

Colorful Inflatable Peacock Bouncer Playground For Kids
is suitable for outdoor, family and playing center uses. It is made of high quality 0.55mm PVC tarpaulin and is of non-toxic. With a technical design, you needn't worry about the problem of safe. It is a good choice for weekends and holidays.
Give us a call or
email
with any questions you have!
Detailed Product Description
Our inflatable bouncer castle is suitable for Child Games due to its high flexibility. Among other entertainment facilities, the inflatable castle is the only one that can be fixed up without any hard object and prevents the children from injury when having fun on it. The inflatable castle is nowadays very popular among the kids for smaller venture.With guaranteed safety, the parents can rest assured when their children play it.

The inflatable Bounce/ Castle can be designed in any shape and specification according to your preference. It is innovative, excited, and safe, together with a super outer-look.

Usages:moonwalk,inflatable fun city,entertainment center, Rental business,family use,nursery schools, gardens, villas,parks,malls,playgrounds,etc