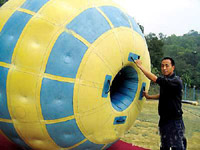 Strongest PVC Tarpaulin Inflatable Zorb Ball for Sale
Name: Strongest PVC Tarpaulin Inflatable Zorb Ball
Size: 3m Diameter x 2.2m Diameter inside
Material: 0.6mm PVC Tarpaulin,colors for your options.
Colors: red, yellow, blue, green, apple green, pink, black, orange, purple, white etc.
Package: PVC Tarpaulin Bag + Webbing Bag.
Usage: Grass, Hill, Beach, Snow, Desert, Water, etc.
Accessories: CE/UL Electrical Air Pump
Repair Kits: Included, TPU/PVC Material, Glue. etc.
Zorb Ball is the sport of rolling down a hill inside a giant inflatable ball, Zorb Globe, Giant Inflatable Human Hamster Ball, It's great for using down local hills, grassplot, grassland, parks, play areas, football pitches and Inflatable Zorb Slide Ramp, Zorbing Orbit, snow field, etc.
We also can provide you Zorb Balls for use on Water.
Detailed Product Description