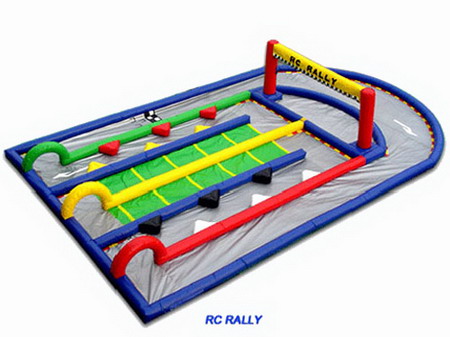 RC Rally Reloaded Race Track
The Inflatable RC Rally Reloaded Race Track is perfect for party, event and rentals in inflatable filed with our giant trikes, zorb ball, horses, race cars, race carts, new electric race animals, Golf course, etc. It's our newest Inflatable Race Track Spots Games and maybe it is the funnest one inflatable race track.
All our Inflatable Race Track games are made by Commercial grade and durable PVC Tarpaulin material, Reinforced strips at the stitching seams make the products has better airtight ness and more durable.
Item No.: SPO-1911
Size: 24mL x 15mW x 4mH
Material: 0.55mm PVC Tarpaulin
Blower: 1 pc 1500W CE/UL
Accessories: repair kits, glue, carry bag, etc.

Add this to your exists Amusement park to attract more tourists, and you can choose the colors as you like.


Detailed Product Description
Inflatable Race Track is perfect for party, event and rentals in inflatable filed with our giant trikes, zorb ball, horses, race cars, race carts, new electric race animals, Golf course, etc.