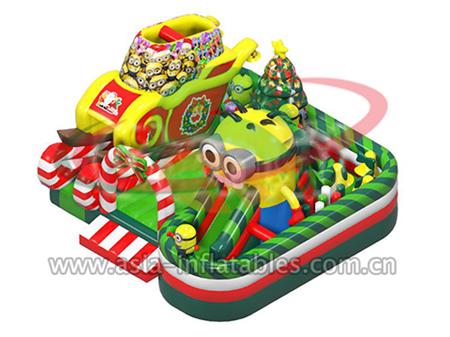 Inflatable Minion Obstacle Challenge Sports
Item No.: Hot-09
Size: 12*10*6M (8*6*4.5M)
Material: 0.55 mm PVC Tarpaulin
Printing: digital printing, silk printing, or hand painting
Blower: 1 pc 1500W CE/UL, plug can be customized.
Accessories: Certificate, Warning, Installation instructions, etc.

Detailed Product Description
ASIA Inflatable Manufacturer has a wide selection of Wet or dry slide, Giant Clown Inflatable Slide, Giant Tropical Dual Inflatable Water Slide, Giant Inflatable Tropical Dual Water Slide, Inflatable Wave Water Slide, Durable Inflatable Dolphin Water Slide, Inflatable Dolphin Water Slide for Summer, Inflatable Palm Trees Water Slide, Great Fun Giant Inflatable Elephant Slide, Nice Kitty Inflatable Sabretooth Tiger Slide, Inflatable Dinosaur Slide, Inflatable Shark Slide, Inflatable Bear Slide, Inflatable Corkscrew Water Slide, Inflatable Octopus Tunnel Maze, Inflatable Monkey Jumper Bungee Run, Unique Inflatable Snake Head Obstacle Course, Balloon Typhoon, Inflatable T Rex Tyrone Maze and our Mini Castles that can be used indoor or outdoor for Amusement Park.

Climb up, tumble down, shake yourself off and try again, once you're successful and reach the top of the inflatable slide you are ready to slide down!! All the inflatable slides manufactured by us are so much fun for kids as well as big-kids wanting to have a blast. All of our inflatable slides are suitable for a variety of ages. We manufactures the inflatable slides that are single lane as well as double and triple. Any of the inflatable slides can be made with any color variations.



Colors: orange, red, light grey, green, military green, black, yellow, white, light blue, dark blue and so on.

Stitching: Double stitching & quadruple stitching.

Quality Test and After-sales service:

● We test each product for 3 days to ensure the toys seamed exactly well.
● We provide repair kit for free, which including material and for repairing in case.
● We will guide you to repair the bouncer and make compensation for them accordingly.


We may customize the design, the size, the colour and the logo as you need.
OEM is welcome.
High Quality + Wholesale Price+3 Year Warranty+ Quick Shipping+Not Used